Shenzhen Foripower Electric released the FRF140 series of new generation hydrogen fuelcell DC-DC converters in the third quarter of 2022.
The FRF140 series DC-DC converter adopts a new generation of power electronic technology, and the performance has been further improved on the basis of the original products of Foripower Electric. The peak conversion efficiency exceeds 99%; the integration is higher,the volume is reduced by 15%, the weight is reduced by 30%, and the power density exceeds 10kW/L, reaching the industry-leading level.
Foripower Electric FRF140 series DC-DC has the following characteristics:
1.The maximum rated power is 300kW, and the maximum input current is 750A;
2.It can be connected to the stack by means of connectors or direct connection of copper bars;
3.Foripower can provide PCU version as the top cover of the fuel cell stack, PCU is connected to fuel cell stack with bus bar directly;
4.The copper bar design adopts a double-sealed structure, which effectively reduces the risk of stack leakage gas entering the DC-DC;
5.With optional 0~6 BOP auxiliary high-voltage port output, with stack open-circuit voltage limit function;
6.Optional EIS module for stack AC internal resistance monitoring helps system manufacturers reduce the cost of external humidifiers;
7.It has the function of low temperature start-up of the stack to help system manufacturers reduce the cost of heaters;
8.It has functions such as stack single cell voltage limit function and adjustable residual hydrogen discharge.
FRF140 series DC-DC converters have a wide range of application adaptability, and can help system manufacturers reduce system costs, improve system power density and efficiency.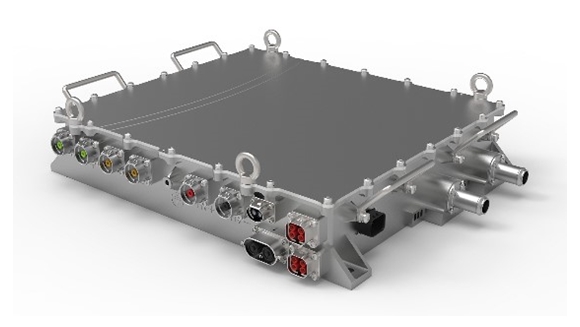 Shenzhen Foripower Electric is a leading enterprise in China's fuel cell high-power DC-DC and air compressor controller industry. It is a professional high-power DC power supply and electronic load development enterprise. As the undertaking unit of the new energy vehicle special sub-project of the 2018 National Key R&D Program,the performance, reliability and market share of fuel cell DC-DC products developed by Shenzhen Foripower Electric are in a leading position. Foripower Electrichas more than ten years of experience in R&D and manufacturing of power electronic products, has mature R&D, supply chain, quality control and after-sales service systems, and has IATF16949:2016 vehicle regulation quality assurance system certification. At present, customers cover more than 20 countries including Europe, America and Japan, and it is a qualified supplier of many leading fuel cell vehicle companies.