Recently, the 8-channel intelligent aging cabinet and automatic ATE Test machine for fuel cellhigh-voltage system components independently developed by Foripower Electric Company were put into use, which further improved Foripower Electric'sproduction quality management system. Foripower Electric make progress in R&D design and production quality, "excellent performance and good quality" to ensure the best product quality in the industry.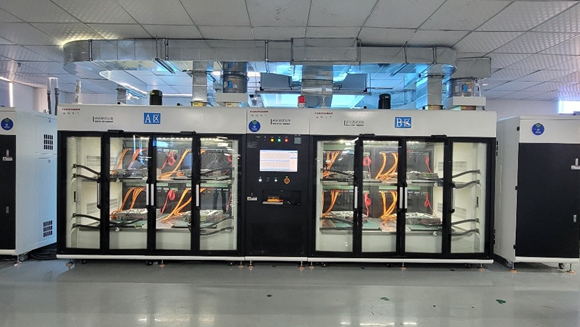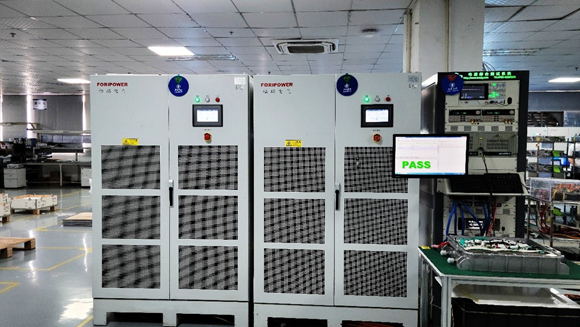 The 8-channel intelligent aging cabinet is customized and developed by Foripower Electric. The high-power DC source and built-in DCDC use Foripower Electric's own
intellectual property products, and the water cooling system and control system are customized and developed by the supplier. The system has 8 independent aging
positions and can do aging for 8 products at the same time, which can greatly improve the aging speed of products and meet the growing order demand.
The system is the first intelligent aging cabinet in China that uses an ambient temperature of 85 degrees,8-channel water temperature independent adjustment / water
temperature up to 80 degrees, and can adjust the input and output conditions at any time during the aging process. The aging product can reach up to 400KW. Harsh
product aging environment to ensure product quality.
The system realizes independent CAN monitoring of 8-channel products, and has millisecond-level CAN fault detection, which can effectively detect intermittent faults and
abnormalities of products. The aging test data is uploaded to the MES, and the aging powercurve and temperature curve can be analyzed.
It has a series of safety protection settings such as smoke detection protection, over-temperature power failure, leakage protection, overload protection, anti-reverse
protection,fireproof material, emergency stop operation, etc.
The automatic ATE test machine matches the high-power DC source and electronic load independently developed by Foripower Electric, and uses the most advanced
Chroma programming system to complete the full-featured rapid test of DCF products.
Foripower Electric has gradually improved the advanced manufacturing process guided by its own intellectual property rights and core technologies. To meet the growing
demand for production capacity, monitor and trace every link of production and testing to ensure the automotive-grade quality of each product.