As fuel cell vehicles gradually enter commercialapplications, the reliability and cost reduction issues of fuel cell systemshave become more prominent. Who can take the lead in proposing effectivesolutions to these two major issues, and who is expected to become the"darling" of the market under the emerging commercial wave.
Shenzhen Foripower Electric Co., Ltd. (hereinafter referred to as "ForipowerElectric") is a well-known enterprise in the domestic DC/DC boostconverter and air compressor controller industry. Based on its long-termtechnical accumulation and mass production experience, also the earliestlaunched fuel cell high-voltage electrical system integration products amongthe industry. It advocates the "deep integration" of on-boardapplications to effectively solve fuel cell system reliability, cost and otherchallenges.
"We believe that many problems with fuel cell systems are caused bypoor integration. Our newly introduced high-voltage integrated power controllerPCU reduces the use of housings, electrical components, connectors, and wiringharnesses. The cost is reduced by more than 10%, while the system volume can bereduced by 20%, and the weight can be reduced by more than 15%." Xuan Lu,deputy general manager of Foripower Electric, said.
Integrationhelps the system reduce costs and increase efficiency

Foripower Electric was established in 2016.The team has more than ten years of R&D and manufacturing experience in thepower electronics industry. The company is the undertaking unit of the newenergy vehicle special sub-project of the national key research and developmentplan and responsible for the development of high-power DC/DC boost converters.With hydrogen energy business as its strategic development direction, ForipowerElectric has gradually expanded its product line to DC/DC boost converter,centrifugal air compressor controller, high-voltage system integration, and DCsource/electronic load.
At present, Foripower Electric's DC/DCboost converters, centrifugal air compressor controllers and other high-voltagecomponents products have a high market reputation. After mass installation andapplication verification, the products have shown high reliability andmaturity. This enables Foripower Electric to objectively have the conditionsfor mass promotion of high-voltage integrated fuel cell products. Taking thisinto consideration of improving system reliability and reducing system costs, ForipowerElectric is now launching the V3 series of fuel cell integrated PCU converters.
This series of products integrates fuelcell DC/DC boost converter (DCF), 24V output DCL, high-speed air compressorcontroller (FCC MCU) and high-voltage power distribution unit (PDC), whichgreatly saves the space of high-voltage electrical systems, which simplifiesthe design and installation of the power system.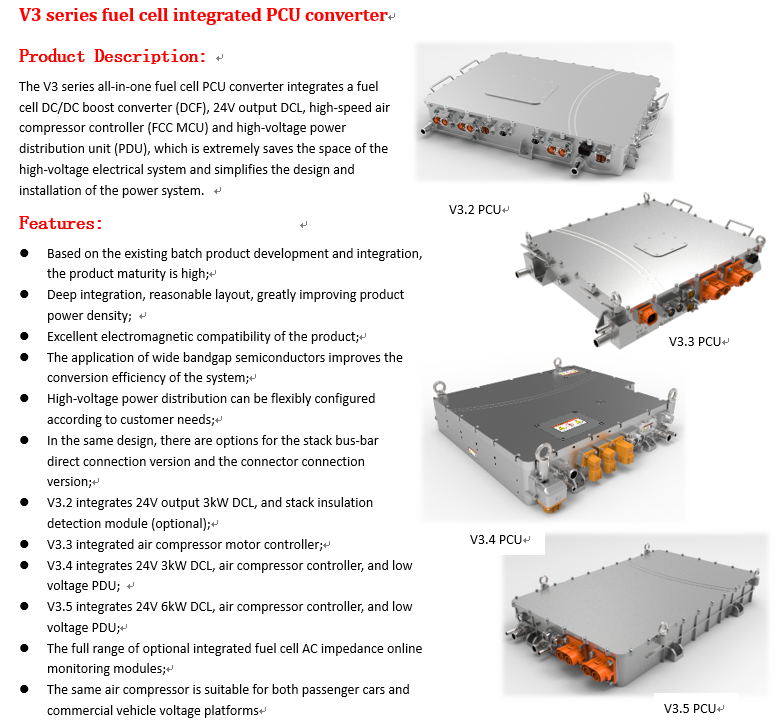 Foripower Electricbelieves that many problems for fuel cell systems that hinder its commercialoperation are caused by low integration. The first is reliability. If thecomponents are separated, there will be many more connectors. This is thebottleneck of system reliability and affects the manufacturability of theproduct. After the parts are separated, there are more manufacturing andinstallation links, more quality control links, and a lot of space-consumingparts shells, which will inevitably have an impact on power density andefficiency. In addition, the cost of each component is relatively high.
"At this stage, the dispersion of the functionalcomponents of the fuel cell auxiliary system is not conducive to thetechnological innovation of the entire system, and the cost is high." XuanLu hit the nail on the head.
On the other hand, Foripower Electric PCU series products can reduce thevolume of the power system by more than 20% and the weight by more than 15%through measures such as sharing the heat dissipation waterway, multiplexingthe main power circuit, and avoiding the use of stack high-current connectors., Because the integrated components reduce the use of housings, electricalcomponents, connectors and wiring harnesses, the cost is reduced by more than10% comparing with separate components.
Fuel cell high-voltage integration includespower-level integration, board-level integration, control-level integration,etc. The current technical difficulty is to achieve high power density whileachieving good electromagnetic compatibility performance. Foripower Electric'sPCU series products are based on the development and integration of existingbatch products, and the product maturity is high. Through the use of deepintegration of software and hardware technology and reasonable layout, thepower density of the product is greatly improved. The product is also realizedthrough forward design Electromagnetic compatibility.
This series of products effectively solvesthe cost, reliability, power density and other challenges of the fuel cellsystem as a whole. Now, this series of products has been researched anddeveloped by the company in 2018 and has undergone continuous iterative upgrades.It has been widely used in passenger cars, buses, muck trucks, light and heavytrucks, etc., achieving the coverage of all application scenarios of fuel cellvehicles and already got customers very positive feedback.

As a fuel cell BOP supplier with adevelopment history of nearly 6 years and a strategic development direction ofhydrogen energy business, Foripower Electric's competitiveness is very obvious.If one of the competitiveness can be said to be able to advance with the timesto promote the integration trend. Being able to provide customers with a richvariety of products is another major competitive advantage. At present, it isdivided into three product series around the DC/DC boost converter:
● V1 series: Mainly used in commercialvehicles, with a thickness of 150 mm, which is reliable, mature, andcost-effective;
● V2 series: It is a specialcustomized series with higher power density and higher working efficiency. Themaximum working current can reach 1000A, the maximum power can reach 300kW, andthe thickness is 103 mm;
● V3 series: Mainly high-integration,ultra-thin design, the height does not exceed 100 mm.
The complete product range is rare inthe industry.
Foripower Electric's air compressorcontroller, with power ranging from 15 kW to 40 kW, is mainly for theintelligent application of centrifugal air compressors. In the case of a pairof pole motors, it can reach 180,000 rpm, while the domestic mainstream aircompressors, basically it is about 100,000 rpm. There are few domestic aircompressor companies that can reach 120,000 rpm. Foripower Electric's aircompressor controller adopts a rare three-level technical solution in theindustry, which has a better protective effect on air bearings and high-speedsingle machine life. It also enables air compressor companies that using Foripower'selectric controller to gain a good market feedback.
In addition, in terms of electronic loads, this product is used forengine testing and activation of production. The power covers 100 kW-250 kW,which can meet the needs of stack and system testing in the next 5 years. Itcan also be used for production activation.
Thanks to the diversity of product typesand the excellent performance of the products, Foripower Electric's hydrogenfuel cell high-voltage component product shipments in 2021 is exceed threetimes comparing with 2020, occupying the mainstream domestic market share andranking firmly among the leading companies.
For this achievement, Foripower Electricstated that the main reason is that the company always puts the realization ofcustomers' application requirements in the first place, attaches importance toproduct quality, and continuously improves the delivery capacity of batchproducts. In the future, the company will continue to improve and maintain thetechnological leadership of its products and accelerate the commercializationof fuel cells in China from the perspective of BOP on the basis of extensivecustomer coverage.
Disclaimer: Thisarticle belongs to Gaogong Hydrogen Power (WeChat ID: weixin-gg-fcev)